Sold Out!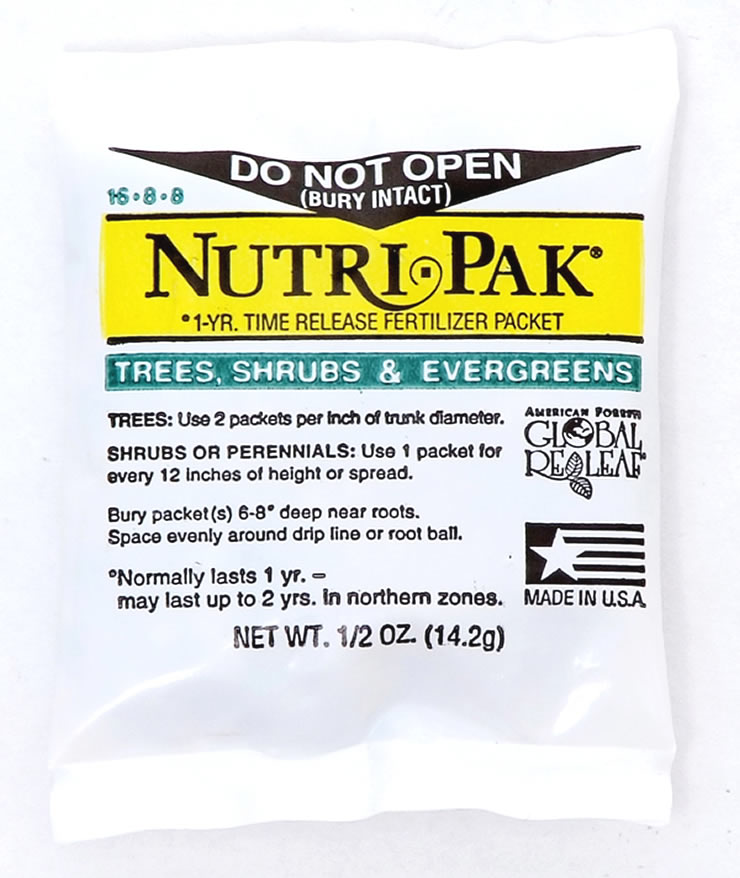 1-Year Nutri-Pak® Trees, Shrubs, & Evergreens
20-Pack $11.80 

50-Pack $29.50 
16-8-8
1 Year Time Release Fertilizer Packets
Temporarily out of stock. we recommend 1 year, 16-16-16 Fruit & Nut Packet or 3 year 16-8-8 Tree Packet as a replacement
For Trees, Shrubs & Evergreens we recommend our N-P-K formulation of 16-8-8. This high nitrogen formulation will give your trees and shrubs good overall greening, growth and health, while also promoting good root development. We have also added 16% sulfur to this formulation for all of your acid-loving plants.
For Trees: Use a minimum of 2 packets – trees with over 1 inch caliper trunks, use 2 packets per caliper inch of tree trunk diameter.
For Shrubs: Use a minimum of 2 packets – shrubs over 24 inches, use 1 packet per 12 inches of plant height or spread. For all plantings, simply bury packets 6-8 inches deep near the plants roots. The packets should be spaced evenly around the dripline of established plantings, or around the root ball of new plantings
For wholesale or commercial use pricing, contact us,
Compare
Additional information
| | |
| --- | --- |
| Weight | 0.5 oz |
| Packs | 1, 20, 50, 300, 1000 |